10 comforting egg recipes we're cooking on repeat this winter
From brunch boards, to an eggs benny casserole, to eggnog and caramel pancakes, these inviting dishes will put a smile on everyone's face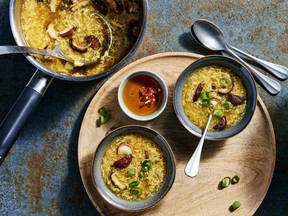 Article content
"Comfort food" means a lot of different things to different people — and what qualifies is as personal as your tastes and background.
Article content
For some, it's all about the feelings stirred up: warm memories from childhood of "helping" to make a batch of cookies, lovingly supervised by parents or grandparents. For others, it's the flavour profile. Rich, creamy, buttery or chocolatey, perhaps? Starchy, fried goodness? Sweet, salty or savoury?
Whatever the memory and the accompanying dish, it's very likely eggs were involved, either as the main attraction or a supporting player. They're a common ingredient in all kinds of easy dishes prepared throughout the world.
Whether boiled, fried, baked, scrambled, or poached, yolky or firm, eggs are the ultimate comfort food. So, this winter, when you're hosting a group — or simply cozying up at home — here are 10 egg recipes worthy of a place on your comfort-food roster.
Article content
First up are two breakfast staples that are easy to prepare, and likely to bring back fond memories of childhood breakfast tables for some. Simple Scrambled Eggs are a classic, and nearly impossible to get wrong; just whisk eggs with a bit of salt and pepper and stir constantly to prevent sticking to the pan. Some cooks add milk to the mix as well, or you can kick it up a notch with other favourite ingredients such as cheese, salsa, vegetables and herbs.
A good Basic Omelette is also a must in any comfort-fare repertoire, and many cultures have some version in their traditions. Infinitely customizable, this recipe is perfect on its own for busy weekdays, calling for just two eggs, salt and water. But, you can also add fillings like veggies, cheese and ham to add an extra touch of comfort (holiday leftovers are a favourite!). Add a side salad to your cheesy omelette with chorizo and dinner is served.
Article content
Lazy Sunday mornings were made for the Brunch Board. Much like a charcuterie board, except brunch-themed, this spread is loaded with the yummiest brunch ingredients: tons of fresh fruit, hard and soft-boiled eggs, scrambled eggs, bacon, breakfast sausages, mini quiches and croissants and hash browns. Serve it all up on a large tray. Ideal for hosting!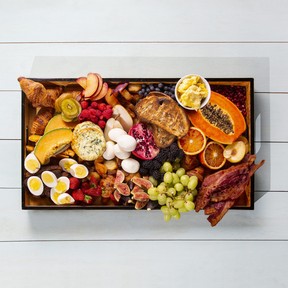 Another cozy dish that's perfect to prepare the night before and serve to a group is Eggs Benedict Casserole. Forget making Bennies one by one: instead, line a casserole dish with ham and halved English muffins, then season and drizzle with homemade hollandaise. You can easily double or triple the recipe. For the best results, make the hollandaise sauce fresh before serving.
Article content
Latkes, or potato pancakes, have long been a comfort food for Canadians with Eastern European heritage and a staple during Hanukkah. Typically made with russet potatoes, this recipe, Sweet Potato Latkes with Soft Scrambled Eggs, notches up the comfort factor by using sweet potato instead, pairing the latkes with soft, warm scrambled eggs.
Moving beyond brunch, winter provides a cozy backdrop for comforting lunch and dinner recipes. A great example is this mouthwatering Spaghetti Carbonara with a Poached Egg recipe, created by Egg Farmers of Canada (EFC) ambassador, Chef Josh Gale of Masterchef Canada fame. Great on a chilly evening, it's simple to prepare and topped with a yolky soft-poached egg for added warmth and texture.
Article content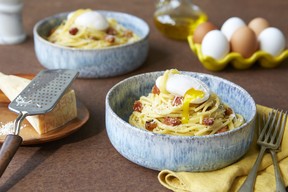 Soup is always a cozy choice on a cool fall or winter day. With just a few ingredients, Chinese-style Egg Drop Soup is great as a quick meal to warm you to your toes. Best of all: five-minute prep time.
And what about a sweet thing or two? This Apple Orchard Crumb Cake from another EFC Chef ambassador, Lynn Crawford, evokes grandma's table, when a box of apples would arrive like clockwork from the local farm. Packed with oats, butter, brown sugar, eggs and lots of cinnamon, it also smells divine when baking.
This one has the look and feel of an old-fashioned peppermint candy, coated with chocolate: Chocolate Dipped Peppermint Meringues. With just six ingredients (plus food coloring, if desired), these treats are melt-in-your mouth delicious and a perfect way to use extra egg whites!
Finally, as December approaches, it never hurts to add some full-on holiday flavour to your comfort menu. Eggnog and Caramel Holiday Pancakes, created by EFC ambassador Chef Matt Basile, are perfect as a dessert or a morning treat on a frosty morning. Homemade eggnog goes into the batter, and steaming caramel sauce completes this decadent dish.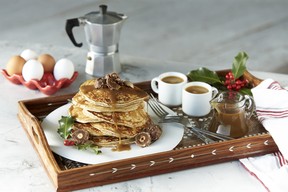 For more eggceptionally comforting recipes, visit eggs.ca/recipes.
This story was created by Content Works, Postmedia's commercial content division, on behalf of Get Cracking.

link