6 Walmart Foods To Avoid, According to Customers
The product recommendations in this post are recommendations by the writer and/or expert(s)
interviewed and do not contain affiliate links. Meaning: If you use these links to buy
something, we will not earn a commission.
From home goods and furniture to Sriracha and sushi, Walmart sells it all, and as one of the largest superstores in the country, the massive one-stop-shop is widely known for having some of the lowest food prices around. Indeed, the retailer offers a wide selection of delicious and nutritious foods to choose from at a great value.
That can be a significant draw, especially for consumers who are still reeling at the price spikes in groceries in groceries over the past year. But, is there such a thing as too affordable?
It's not a universal truth, but sometimes when prices are low, it could mean that suppliers are cutting back on other factors, like quality, nutrition, and sustainability—which, unfortunately, may be the case for these six Walmart items. We looked at the reviews on the company's website and found the aisles that customers say to avoid, whether you're shopping in-person or online.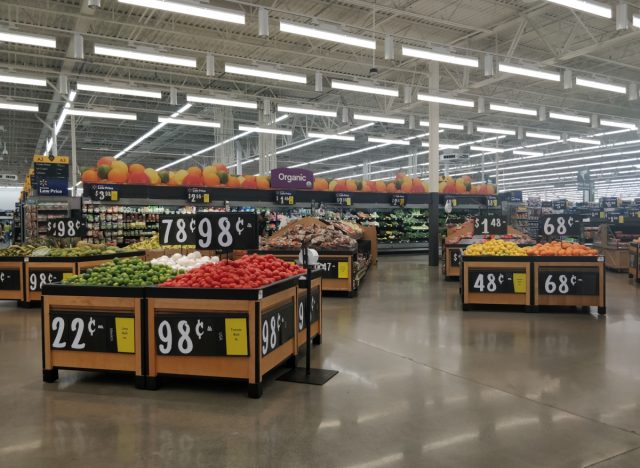 When it comes to produce, high-quality can come with a steep price tag, and that poses challenges to many shoppers trying to eat nutrient-rich, whole foods. The upside is that Walmart prices often beat out the competition. The downside is…well, the produce isn't very good. In a recent Facebook poll by Eat This, Not That! to determine the worst grocery chains for produce, Walmart got the most votes. In this case, winning is losing.
According to one reader, the issue might be poor storage methods: "I think part of their problem is not storing things correctly. I eat those Taylor bagged salads often, and the ones I get at Walmart often have gone bad days before the expiration date. Get the same salad at another grocery store, still fine a week after expiration."
Others have echoed the sentiment, such as employees who post on the Walmart-focused Reddit community: "I don't buy our produce. That stuff [has] been on the shelves for over a month and been in the back for [at] least 2-3 months before it makes it on the floor." Whatever the reason, you're probably better off looking for your fruits and veggies at another discount grocer.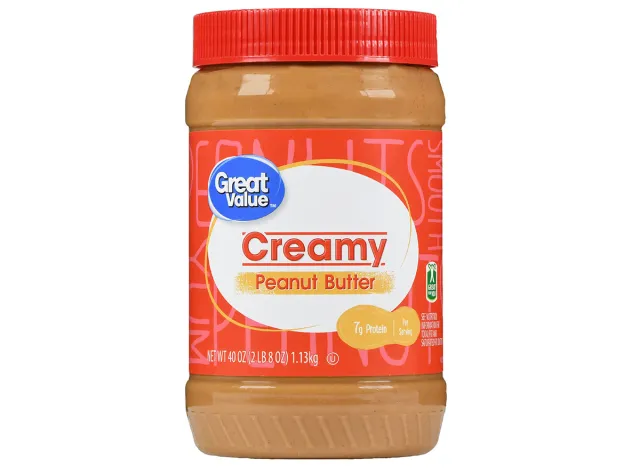 Is there anything more classic than a good ole PB&J? But, if you were planning to stock up on these spreads during your next Walmart run, we urge you to reconsider. The store brand's peanut butter isn't anywhere near the top of customers' lists. A taste test by The Sun found that the Great Value brand was one of the worse options, with its "stiff texture, lack of color and thick and pasty look."
While the reviews online are mixed, it's clear that something about the nut butter is off, even if it's not overly obvious. "I really enjoy the taste…and you can't beat the price…but, why does it smell so bad? Once it's mixed in the recipe and baked, or covered with fruit spread and bread, I don't notice any odor, and it tastes really good. What's up with that?" wrote one shopper on the retailer's website. "Kinda worries me because I am not sure what's making it stink. A couple of years ago, I only smelled peanuts after opening the jar. HMMM…"
If you need more evidence, just read the label. In addition to the basics—peanuts and salt—Walmart's brand includes sugar, hydrogenated vegetable oils, dextrose, and monoglycerides, all additives that put this sandwich topping in the lower tier of nut butters.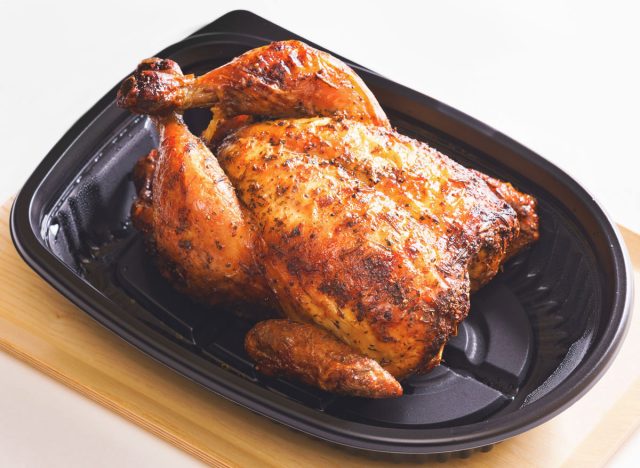 Everyone knows that Costco dominates in this category, with its acclaimed $4.99 rotisserie chicken. But does Walmart come close? Nope—far from it, customers say. In fact, it ranked in last place on this website's 2018 survey of grocery store rotisserie chickens, and the bird gets only 2 stars out of 5 on the superstore's own site.6254a4d1642c605c54bf1cab17d50f1e
There are a lot of complaints about this product. Reviewers have said they've seen their chickens contaminated with bugs, cold and stale, burnt to a crisp, or even raw. "The rotisserie chicken is often bloody and rare or raw in the middle. It's always hit and miss," wrote one customer. "I've complained to management [and] I've complained to the deli itself and yet they still turn out uncooked chicken."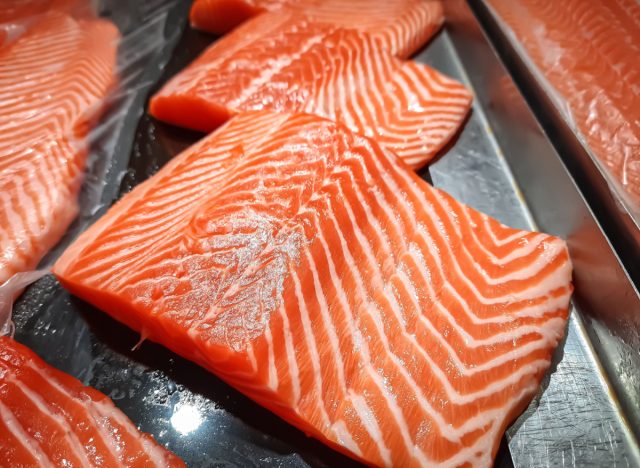 With ready-to-eat chicken out of the running, you might be wondering if the seafood supply is any better. Unfortunately, you'll be disappointed to find that a handful of the "Live Better" retailer's fish options are at the bottom of the barrel.
People don't have many good things to say about the Walmart salmon, for instance. Many report issues with receiving expired fish at alarming rates, earning this pre-portioned salmon a dismal 1.8 stars out of 5. "I've tried to get this 3 times and each time it was bad BEFORE the sell by date. It was VERY ROTTEN, with a little color added. Twice by delivery, one by in store. My fault for trying 3 times!" wrote one reviewer.
Aside from the freshness factor, there are also concerns about the unsustainable farming practices by Walmart's suppliers. Greenpeace ranks the global retailer low for overall sustainability, arguing that "Walmart's progress on sustainable canned tuna has stalled and it is one of several companies mentioned in reports concerning slavery in its supply chain." The environmental group also urges customers to stop buying endangered species of fish, like bigeye and yellowfin tuna, which Walmart still sells.
Labor-rights groups have previously charged Walmart with importing farmed shrimp that is linked to abusive, forced labor within the Thailand shrimp industry. These organizations have been calling for the company, along with other large grocery retailers like Whole Foods and Costco, to find more ethical ways to source its shrimp.
Meat is a staple in many Americans' diets. However, it can also be expensive, especially after the past couple years of inflation hikes in the meat industry. Walmart's "everyday low prices" may seem like a more cost-effective way to get your serving of protein, but you might not be getting much bang for your buck.
Walmart has a history of overcharging for discounted meat, according to a lawsuit settled in 2020, where the company agreed to pay a maximum of $9.5 million for ringing up discounted meat at full price since 2015.
After this settlement, it stands to reason that you should be charged fairly for your beef and poultry purchases, but it still may not be worth your money. More recent customer reviews for basics like raw beef and chicken have noted a distinct change in quality over the past year—and not for the better.
"This product is not at all edible!" one customer wrote about the store brand's boneless, skinless chicken breast. "The chicken is so woody and tough that you choke trying to eat a small bite if you can ever cut through it to get a bite! DO NOT WASTE YOUR MONEY!! Never buying again. Great value's quality has gone way down!!!!!"
The ground beef is also severely disappointing, with many reviewers finding that their products were spoiled when they got them. "We arrived at home to notice that [the] meat expiration was the next day. We decided to plan accordingly. When I took it out of the refrigerator at 3:30 to cook it was disturbingly gray in color! Yuck!" complained one customer. "We took a photograph, brought it to Walmart, and my husband was told by the customer service girl that the policy did not allow any credit. How is this possible?"
Some packages of beef even appeared to be missing a marked expiration date altogether. These meat misgivings occur frequently enough to give Walmart a bad reputation in the beef and poultry categories. On a Reddit post by a customer who allegedly got food poisoning from a Walmart chicken, one commenter replied, "Walmart is notorious for bad meat and poultry. Don't ever buy it from any Walmart anywhere."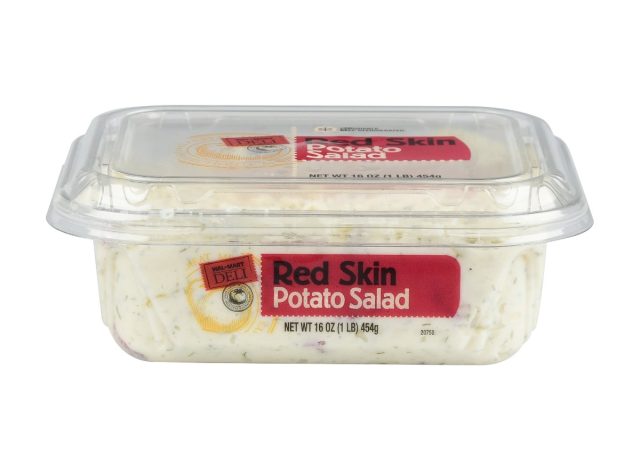 Once a popular ready-made side dish, this potato salad no longer deserves a spot at the table. Despite the brand's "fresh, affordable, quality" guarantee, customers found that they'd be better off shelling out more money for something better, giving the item an abysmal rating of 1.6 stars out of 5 on the retailer's website.
"The old version was [delicious]. This is gross and has that store bought flavor. Can't ever determine what ingredient causes this in any of them. The potatoes weren't cooked fully," wrote one shopper. "So disappointed. Got one serving out of [the] container and didn't even finish it. Guess i'll pay the extra $5 for Resers potato salad going forward."
link