8 Affordable Thanksgiving Decorations You Can Find at Walmart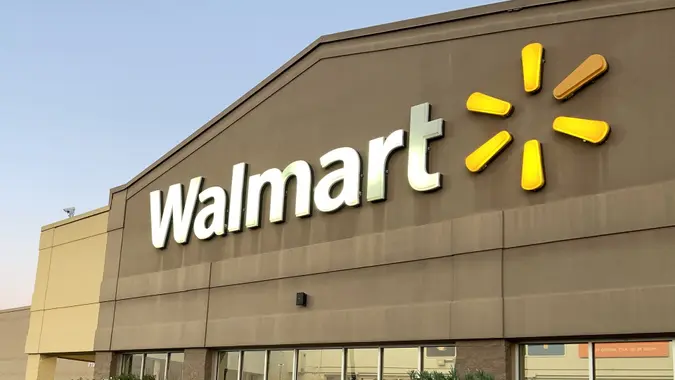 bgwalker / iStock.com
The biggest eating holiday of the year is next week and you don't feel like your home is properly decorated. Thankfully, Walmart has plenty of budget-friendly options to transform your dinner table or your front lawn into a Thanksgiving wonderland.
Find: Costco Black Friday Deals You Shouldn't Pass Up
Read: If Your Credit Score Is Under 740, Make These 4 Moves Now
GOBankingRates rounded up the best deals on the most festive items, so you can stop stressing about your lack of décor. Here's a look at eight affordable Thanksgiving items available online at Walmart that need to be in your cart.
Thanksgiving Cozy Plaid Table Runner
Price: $10 and up
Dress your table up for Thanksgiving with this festive table runner. Featuring a red, white, grey and beige plaid design, it will add style to your table while protecting it from the wear and tear of Turkey Day.
It's also machine washable, which is a must when your holiday table is filled with loved ones and food. Seriously affordable, this table runner is available in several sizes, starting at 14×72 inches.
Kids Thanksgiving Activity Kit
Price: $12.51
Take the kids' table to the next level this year with the Way to Celebrate Kids Thanksgiving Activity Kit. This 49-piece set contains an eight units each of a color-your-own Thanksgiving hat activity, color-your-own Thanksgiving turkey mask activity and Thanksgiving activity placemats, along with 24 Thanksgiving Bingo games.
'Talk Turkey to Me' Plush Hat Bundle — Four Count
Price: $23.92
Make your Thanksgiving one to remember with Packed Party "Talk Turkey to Me" hats. Your purchase will get you four turkey hats that can be worn as part of a game, for social media pictures or just for fun.
Your Thanksgiving dinner is guaranteed to be anything but dull when your guests are walking around in these hilarious hats.
Take Our Poll: Do You Think Student Loan Debt Should Be Forgiven?
Thanksgiving Turkey Centerpiece
Price: $12.00
Make your dinner table fun and festive with this adorable smiling turkey centerpiece. Crafted from cardstock and tissue paper, this brightly-colored turkey is sure to add cheer to the room. Assembly is quick and easy, ensuring you'll have it out of the package and on the table in no time at all.
Polyester Schnauzer Thanksgiving Pilgrims Outdoor Flag
Price: $14.98
Water resistant and weatherproof, this Polyester Schnauzer Thanksgiving Pilgrims Outdoor Flag makes a fun holiday statement. Made for a garden-sized flag, your guests will feel the festivity as soon as they pull into your driveway.
Traditional Thanksgiving Tableware Kit
Price: $18.40
Everything you need to make your holiday meal festive, this Traditional Thanksgiving Tableware Kit is designed to serve up to 16 people. It includes paper plates, napkins, cups and cutlery in a white, orange, green and gold theme, adorned with pumpkins and the words "grateful" and "thankful."
Chic and practical, this 120-piece tableware set will also make for easy cleanup, so you can enjoy the time with your guests instead of being stuck in the kitchen after dinner.
Shaped Pumpkin Decorative Pillow
Price: $12.97
Cute and cozy, this Mainstays Shaped Pumpkin Decorative Pillow will add Thanksgiving cheer to any room. Available in off-white, beige and brown, this throw pillow looks great on its own or with other fall décor in your home.
Inflatable Pilgrim Turkey
Price: $19.88
Be the most festive house on the block with the Way to Celebrate Inflatable Pilgrim Turkey. Easy to set up, this 6.5-foot tall turkey self-inflates and illuminates with LED lights.
Most people will put this turkey outside, but technically speaking, it's suitable for indoor or outdoor use. So, if you have a large space and are feeling especially festive, you can also set this up inside, which will surely amuse your guests. Best yet, it just got marked down an extra 20 bucks!
More From GOBankingRates
Disclaimer: Prices and availability may vary by location.
link