Best Keto Almond Brittle Recipe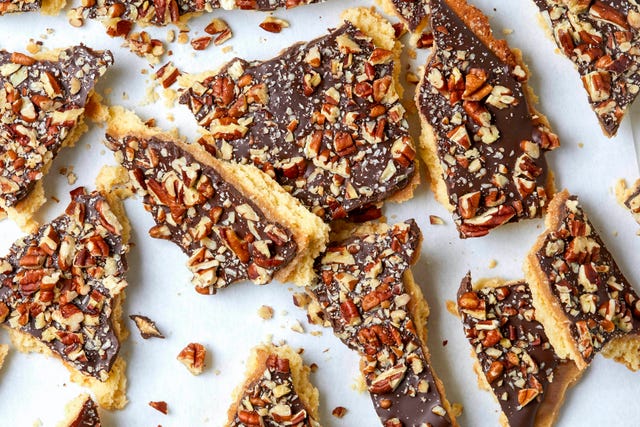 LUCY SCHAEFFER PHOTOGRAPHY
It's no secret that we're big fans of keto desserts. Just because you're eating a ketogenic diet (aka cutting down on carbs and upping fat big-time), this shouldn't mean you should have to cut out treats, too! Keto Almond Brittle is perfect to keep around for when you have a small sweets craving, to crumble and combine with Keto Ice Cream for easy sundaes, or to package up as a host or hostess gift for dinner parties or as a keto-friendly holiday cookies. (Not keto? Check out Peanut Brittle or Chocolate Toffee.)
Normally making brittle requires the complicated step of getting the sugar to the right temperature. However, because you'll be using Swerve (an erythritol-based sweetener that's keto-approved) instead of granulated sugar, there's no need to use a candy thermometer or navigate boiling sugar. Instead, follow the directions and time in the recipe accordingly to get the delicious toffee layer. The brittle is then topped with a thick layer of chocolate and pecans, though if you want to play off the almond flour base, toasted chopped almonds would be delicious, too. (It's worth toasting the pecans, if you have the time.)
Store Keto Almond Brittle in an airtight container for up to 7 days.
Advertisement – Continue Reading Below
Cal/Serv:
415
Yields:

8
– 10
Total Time:

2

hours

0

mins


For the almond crunch
2
c.

blanched finely ground almond flour, plus more for dusting
1/4
c.

Swerve confectioners'
For the toffee topping
1/4
c.

packed brown granulated Swerve
For the chocolate topping
1/2
c.

finely chopped pecans
This ingredient shopping module is created and maintained by a third party, and imported onto this page. You may be able to find more information about this and similar content on their web site.
Make the almond crunch: Preheat oven to 325º. In a medium bowl, whisk the almond flour, Swerve confectioners', baking powder, cinnamon, and salt. Add egg and butter and stir well to fully combine; it will be a thicker dough (like pie dough).
Form the almond mixture into a ball and place on a sheet of parchment paper. Using a rolling pin, roll the dough out to a scant ¼" thick circle, and dust top lightly with more almond flour if dough is sticking to rolling pin. Slide parchment with the dough on it onto a baking sheet and bake until golden, about 22 to 25 minutes. Let cool on a wire rack, about 20 minutes.
Make the toffee topping: In a small saucepan, melt the butter and brown Swerve over medium heat, stirring. Bring to a boil and cook, stirring, until amber in color (about a shade or two darker than its original color—essentially the butter browns a bit), about 2 to 3 minutes. Immediately remove the pan from the heat and carefully pour on top of baked almond crunch. Use a spoon to spread to the edges, leaving a ¼" to ⅛" border. Let cool until hardened, about 30 minutes.
Make the chocolate topping: In a medium microwave-safe bowl, combine the chocolate chips and coconut oil. Microwave until just melted, stirring a few times, about 1 minute. Pour chocolate on top of toffee topping and spread in an even layer. Sprinkle with pecans.
Refrigerate until chocolate is firm, about 20 minutes. Break into pieces.
Nutrition (per serving): 415 calories, 8 g protein, 27 g carbohydrates, 10 g fiber, 2 g sugar, 39 g fat, 14 g saturated fat, 45 mg sodium
This content is imported from embed-name. You may be able to find the same content in another format, or you may be able to find more information, at their web site.
This content is created and maintained by a third party, and imported onto this page to help users provide their email addresses. You may be able to find more information about this and similar content at piano.io
Advertisement – Continue Reading Below
link