Ditch the kit: Creative, fun ways to dye Easter eggs | Berkshirelandscapes
Few things say Easter like the smell of vinegar in the air, the clanking of spoons in glasses, mixing dyed water and the hope of a perfectly white egg turning a darker and darker hue with each passing minute in its dye bath.
If you're like me, you grew up with the dyeing kits, picked up in the seasonal display at the end of the grocery aisle. But this year, it's time to try something different.
After browsing holiday Pinterest boards, I found four new ways to add color, and creativity, to the humble hard-boiled egg turned Easter centerpiece.
Here are the good, bad and colorful results: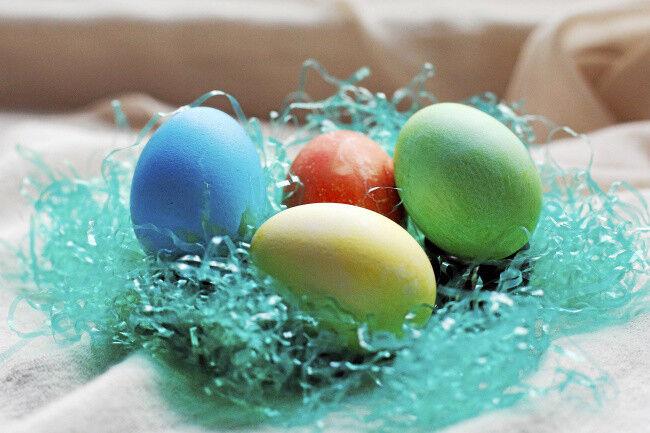 The basic egg
What you need: Hard-boiled eggs, food coloring or food gel, hot water, vinegar, glasses and spoons.
How it works: Simply fill a glass with 1/2 cup of hot water and 1 tablespoon of vinegar and 10 drops of one food gel color. Add more drops for more intense color. Mix all until combined. Place an egg in the glass and let sit until it reaches desired color.
Egg-celent?: Basic is sometimes best. This is like having an egg-dyeing kit, but only doing it with things you probably already have in your home. Make different color combinations by following the directions on the back of the food coloring box if you're feeling daring.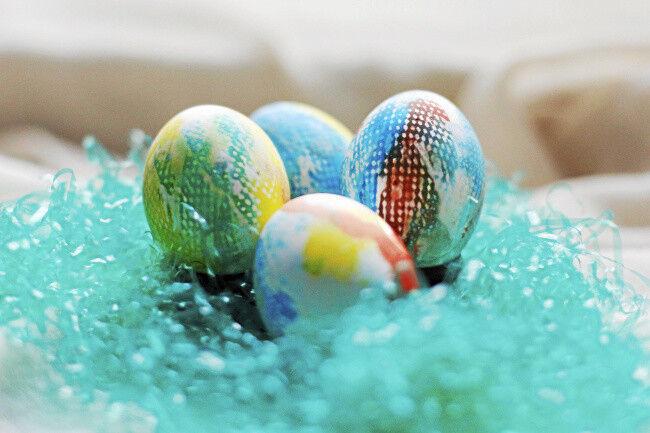 Tie-dye egg
What you need: Hard-boiled eggs, piece of paper towel (one for each egg you'll be dyeing), spray bottle, water, white vinegar, rubber bands, food coloring or food gel
How it works: Spray pieces of paper towel with equal parts vinegar and water. Wrap the wet paper towel around an egg, securing it with a rubber band at the top of the egg. Next, drip the food coloring or gel directly on the wrapped egg. Make sure to get in where the paper towel folds. Choose two or three colors and alternate around the egg. Spray the egg with more vinegar and water, so all the colors run together. Let the egg sit for at least an hour, then remove the paper towel.
Egg-celent?: I was shocked to find this produced a very cool, interesting egg design. Because my paper towel had absorbent pockets, it created an interesting design. For some reason, perhaps because I didn't spray enough extra vinegar, the colors didn't really bleed into each other, but it still created a fun, funky design with relatively little work.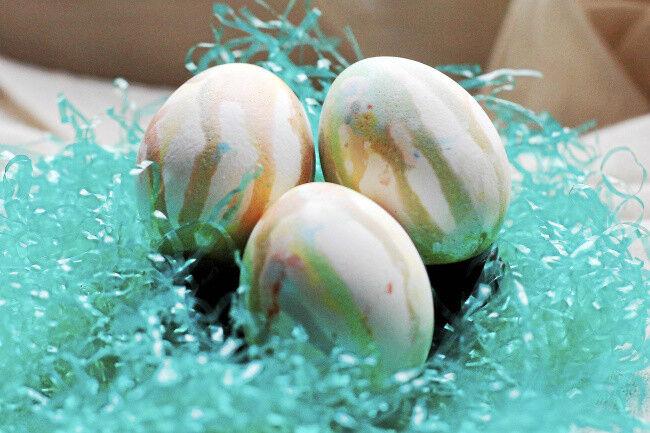 Drip egg
What you need: Hard-boiled eggs, vinegar, leftover dyed water from the "Basic egg" and an eye dropper.
How it works: Wipe down eggs with vinegar. Sit eggs standing up in an egg carton, or nestled on push pins in cardboard — something that you don't mind throwing out when all is done. Using eye dropper, drip dye on eggs at the top of the egg. Use two or three different colors, but not too many because it will turn a muddy color. The dye will drip down the egg, leaving a faded streak of color.
Egg-celent?: This is an easy, fun way to use up the leftover water from dyeing eggs. Though, I did find it difficult to get the dye to drip in different places. No matter where I put the dye, it would follow along the same path, overlapping other colors because of grooves in the egg, or where the vinegar settled. A little goes a long way and makes a pretty egg, though.
Cool Whip egg
What you need: Hard-boiled eggs, shallow glass baking dish, Cool Whip, food coloring or gel
How it works: Spread Cool Whip evenly in the shallow baking dish. Drip different food colors in different areas on top of the Cool Whip. Use a knife or a skewer and drag it through the Cool Whip to create a design and mix the colors a little bit. Next, take a hard-boiled egg and roll it in the colored Cool Whip from one end to the other of the dish, completely covering the egg in a thick mixture. Let the egg rest on a paper plate for at least 15 minutes, then wipe off excess Cool Whip from egg.
Egg-celent?: I was the most skeptical of this process — a variation on the classic shaving cream egg — it seemed like a waste of perfectly good Cool Whip. But I could see this being fun for little hands that like to get messy. This created a subtle, pretty pastel design on the egg for a more sophisticated table setting.
Egg-dyeing 101
Before you dip those eggs, here are a few things to remember:
• Everyone has their own version of "the perfect hard-boiled egg." Here is how we make ours: Cover eggs with water, at least an inch over the eggs, in a pot on the stove. Once water begins to boil, turn off burner, cover pot and leave on the burner for 12 minutes. When time is up, remove pot filled with eggs from burner.
• Food coloring will stain — almost everything. So wear proper clothes, cover your work surface with newspaper and use gloves if you want to avoid sporting rainbow fingers for three days.
• When you don't buy a kit, you don't get that nifty box with the holes for drying eggs. Instead, use push pins in cardboard to stand the eggs on.
This article was originally shared in 2016. 

link