Dollar Tree: What To Buy (And Skip) on Your Next Trip
Dollar Tree is a popular go-to store for frugal shoppers, but many customers might not realize just how much they can actually save by shopping there. From household items and party supplies to pantry items and toys, there are incredible deals around every corner.
Dollar Tree: 5 High-Quality Items To Buy Now
Check: 3 Signs You're Serious About Raising Your Credit Score
But not everything from Dollar Tree is a steal — the key is knowing which items give you the best bang for your buck and which are best left on the shelf. GOBankingRates did some research and came up with a list of what to buy and what to skip the next time you shop at Dollar Tree.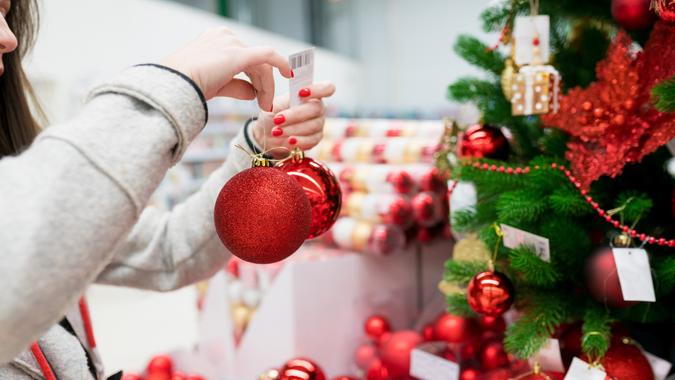 Seasonal Items
Dollar Tree usually has a section dedicated to seasonal items including household decorations, craft supplies, party supplies, costumes and candy. This is a great aisle to shop for inexpensive items that can be given away or donated once the season is over. The particularly great-value items can probably even be used for years to come.
What to buy:
Seasonal decor
Greeting cards
Costumes
Candy
Craft supplies
What to skip:
Nothing, since you'll only be using these items for a short time anyway. Compared to prices of seasonal decor at Target and even Walmart, you're going to save a ton on items that typically don't get much use.
Take Our Poll: Do You Have a Second Job or Backup Plan in Case You Are Laid Off?
Party Supplies
Dollar Tree is an incredible store to get everything you need to stock and decorate your next party. From streamers to gift wrap, you can find pretty much anything you need to liven up your event. Since most of these items get thrown away anyway, you should spend as little as possible. Just a few bucks at Dollar Tree gets a gift wrapped, for instance, versus upwards of $8 or more at larger retailers.
What to buy:
Wrapping paper
Ribbon
Cards
Balloons
Streamers
Candles
Gift bags
What to skip:
Paper plates and plastic utensils: This is an area where spending a few extra dollars really pays off. Cheap plates and utensils break easily and aren't very durable. Invest a little more in these goods for the sake of your party guests (and your carpet).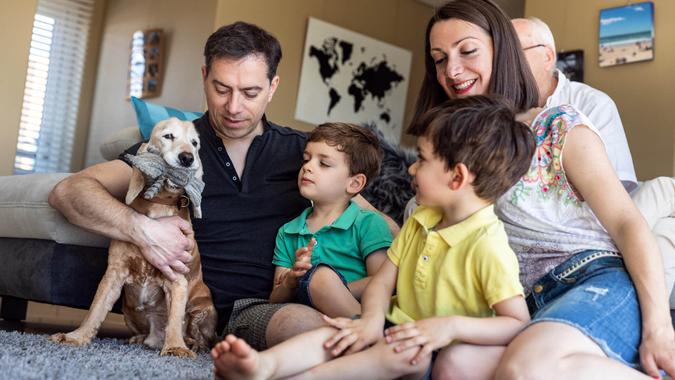 Kids' and Pets' Items
You can find tons of items for the entire family (including pets) at Dollar Tree. Kid-friendly items, from toys to crafts, are so inexpensive you can keep a stash of them aside for rainy days, road trips, play dates and vacation days. For pets, you can also find litter box liners, treat jars, dog waste bags and a whole other host of supplies you need to keep on hand when you have pets. Fun fact: I keep a basket of cheap toys and crafts from Dollar Tree to reward my kids when they've done their chores all week. It's less expensive than an allowance and there's no skin off my back when they eventually get lost or broken.
What to buy:
Bubbles
Balls
Hula-hoops
Card and board games
Glow sticks
Craft supplies
Inexpensive toys
Coloring books
Puzzles
Pet treats (not food!)
Training pads for puppies
Socks (because who sees your socks)
Sunglasses
What to skip:
Stuffed animals or dolls: Especially when they have small parts or loose buttons, these items can be choking hazards. Well-made stuffed animals and dolls are safer for children.
Cat and dog food: It's worth spending more to feed your pet high-quality food that is specific to their breed, age and size.
Dog and cat toys: Some of these items aren't well-made and can also be choking hazards.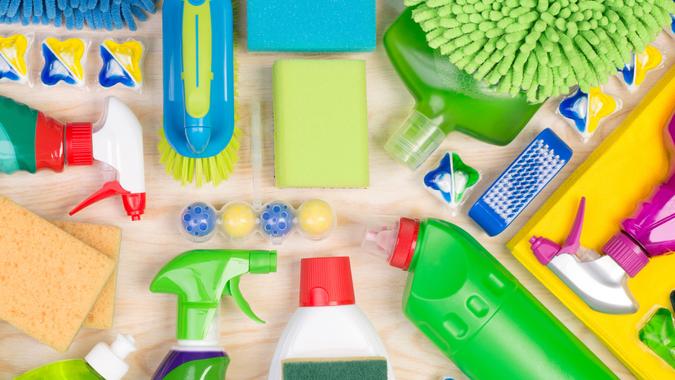 Household Supplies
From organization and storage bins to washer fluid, Dollar Tree is chock-full of household goods at bargain prices. For instance, a 40-ounce bottle of Pine Sol costs $3 or more, while the same amount of Pine Glow is just $1.25 at Dollar Tree. Dollar Tree also sells many popular name-brand household items for $1.25 like Ajax powder, Lysol Muti-surface Cleaner and Spic & Span Antibacterial Spray Cleanser.
What to buy:
Cleaning supplies
Air fresheners
Bleach
Ammonia
Dryer sheets
Plastic storage bins
Clothespins
Sponges
Disposable gloves
Generic Swiffer refills
Painting supplies for small to medium projects
Nails and screws
Some car maintenance products (not motor oil)
Washer fluid
Batteries
Super glue
Drop cloths
What to skip:
Tools: Tools should be well-made and durable. Many of these items at Dollar Tree aren't.
Brooms: Brooms also need to be durable. Focus on quality, not price, since having to replace this item every few of months would quickly add up anyway.
Dish soap: Some dish soaps at Dollar Tree aren't tough enough on grease. Stick with your favorite brand that can get the job done well.
Garbage bags: No one wants to deal with a garbage bag that splits open. Spend a little more for a brand that can really hold up.
Toilet paper, tissue or paper towels: This might go without saying, but these items deal with pretty delicate areas of the body. More expensive brands are typically softer and stronger.
Hangers: Don't even bother with cheap hangers, which break and bend and will drive you crazy.
Light bulbs: Investing in CFL light bulbs can be expensive, but they use 75 percent less energy and last 10 times longer, according to Energy Star.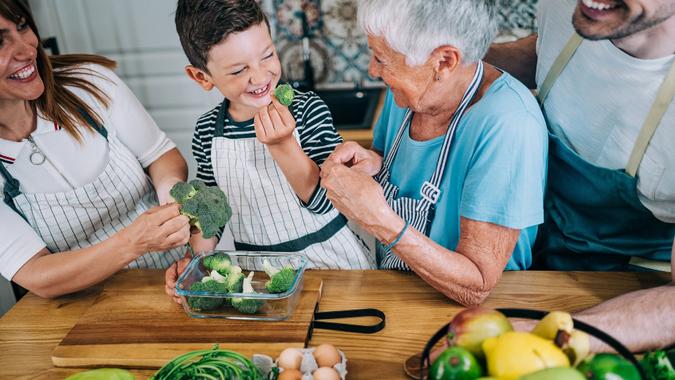 Kitchen Items
Like the household section, the kitchen items at Dollar Tree are a steal. The only items we couldn't recommend were generally made of flimsy materials and should be more durable. But everyday or disposable kitchen items are particularly good deal at Dollar Tree, like plastic storage boxes with lids, nesting bins, reusable ice packs, glass prep bowls and more that can to make your kitchen complete. Compared to the plastic storage bin section at Target or glass bowls from Walmart, these items are a real deal.
What to buy:
Plastic and glass storage containers
Disposable baking dishes
Napkins and straws
Matches
Measuring cups
Lighters
Ice packs
Sandwich bags and lunch bags
Disposable cups
Dish sets
Kids' dishes and snack containers
What to skip:
Knives: Invest in a set of knives that will last a lifetime. The Dollar Tree knives won't.
Kitchen scissors: Again, this is a kitchen item that needs to be strong and durable. Don't skimp on a great pair of kitchen scissors.
Can openers and peelers: These items need to be tough enough to cut through some serious material.
Metal flatware: A nice set of flatware should be heavy and durable. Cheap flatware tends to bend and ding easily.
Pots and pans: Like a good set of knives, a great set of pots and pans can last forever. Plus, inexpensive cookware can heat unevenly and make it difficult to create a masterpiece in the kitchen.
Aluminum foil: The aluminum foil from Dollar Tree tends to be thin and rips easily, and isn't much cheaper than its name-brand counterparts. Spend just a little more for something more durable.
Dishtowels: Dishtowels need to be durable and very absorbent. Cheap ones will frustrate you when all you want to do is get the dishes done and put away.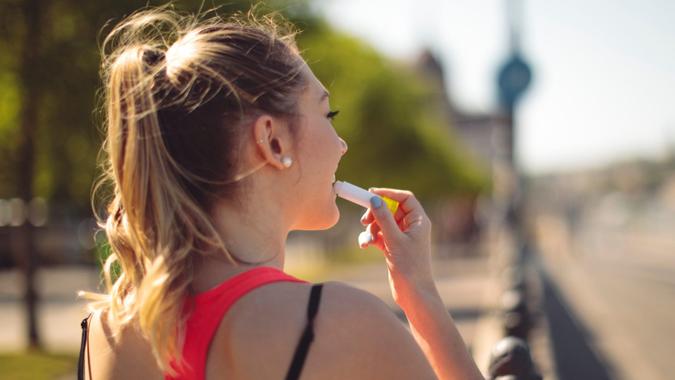 Health, Beauty and Personal Products
The Dollar Tree has fabulous prices on health, beauty and personal care items, including brands sold at pricier stores like Target and Walmart. A few things, like hair color and makeup, probably aren't worth skimping on, but there is a huge selection of high-quality items at low prices. For example, Dollar Tree has Carmex lip balm, VO5 and White Rain hair products and compact mirrors for only a dollar, compared to $4 or more for comparable items at Walmart.
What to buy:
Combs
Hair accessories, ties and clips
Mirrors
Make up sponges
Travel-size bottles
Earplugs
Emory boards
Name brand medications
Cough drops
Pill organizers
Rubbing alcohol
Toothbrushes
Shaving cream
Floss
Name brand toothpaste
Cotton swabs and balls
Nail polish remover
What to skip:
Hairbrushes: Take care of your locks with a hairbrush that is made to last and specific to your hair type.
Soap: Be kind to your skin with a soap made with gentle ingredients.
Makeup: Cheap makeup can have fillers and oils you want to keep off your face.
Feminine products: These items need to be absorbent and well-made. It's not worth skimping on quality and risking embarrassment.
Vitamins: Buy vitamins from a quality producer so you know exactly what you are getting.
Hair color: This at-home hair treatment can go really wrong, so use the highest-quality color you can afford to avoid a mishap.
Razors: Inexpensive razors aren't as sharp and won't leave you with the closest shave possible. Spend more on a razor you can reuse over and over again. You'll likely save more in the long run and your skin will thank you for it.
Bandages: Thin, weak bandages won't do your injuries much good. Spend a little more for a brand with staying power.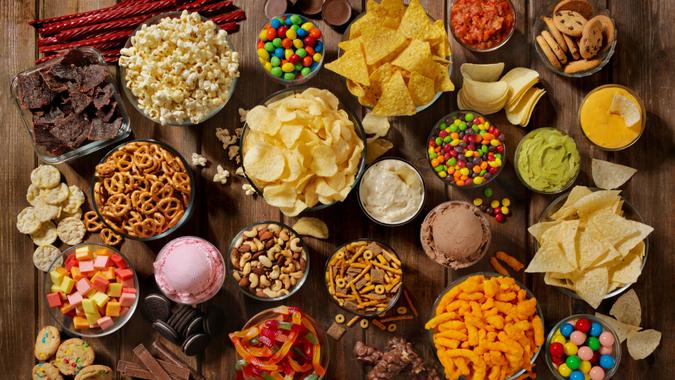 Groceries
You probably don't want to do all your grocery shopping at Dollar Tree, but it offers some grocery items at great values, especially if you are throwing a party. In some cases, even Dollar Tree can't beat coupon deals at other grocers, so compare prices at both stores before you buy. Still, for just $1.25 at Dollar Tree you can get snacks like a 4-pack of Slim Jim beef jerky, a box of Nature Valley oat bars, a wide variety of spices and tons of baking supplies.
What to buy:
Large bags of candy
Frozen fruits and veggies
Rice
Oatmeal
Spices
Popsicles
Drink mixes
Condiments
Chips, cookies and crackers
What to skip:
Juice: Many of the juices at Dollar Tree have a lot of sugar and artificial ingredients.
Canned goods: These items tend to be limited and many have added salt or other unhealthy ingredients.
Cereal: These are usually on sale at larger grocery stores and if you use coupons, you will likely get better prices and higher quality than at Dollar Tree.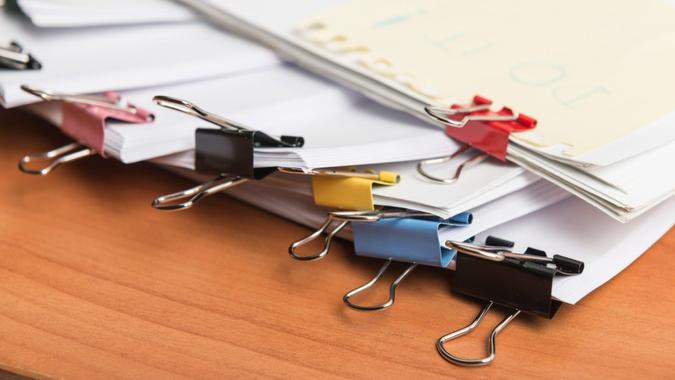 School and Office Supplies
You can save a bundle shopping for school and office supplies at Dollar Tree. Like everything on our list, some items are worth paying a little extra for, like calculators and computer paper, but it's still worth making a stop in this aisle for some basics. For example, a bottle of screen cleaner at Walmart sells for $7 and box of binder clips at Target is almost $11!
What to buy:
Folders and binders
Tape
Poster board
Mailing supplies
Binder clips
Cell phone screen protectors
Screen cleaning cloth and wipes
Paper for drawing or handwriting
What to skip:
Dry erase boards and markers: Spend more on dry erasers and boards that clean well and easily.
Calculators: These items typically get a lot of use and need to have strong battery life and reliable functionality.
Crayons: Cheap crayons break easily which can lead to frustration and tears. A box of quality crayons at Target is only a dollar or two more and will last longer.
Computer paper: Cheap computer paper can get stuck in your printer.
Glue sticks: Inexpensive glue sticks don't work as well and dry out faster. Spend just a little more and one swipe will get the job done.
More From GOBankingRates
This article originally appeared on GOBankingRates.com: Dollar Tree: What To Buy (And Skip) on Your Next Trip
The views and opinions expressed herein are the views and opinions of the author and do not necessarily reflect those of Nasdaq, Inc.
link