Easter Deviled Eggs Recipe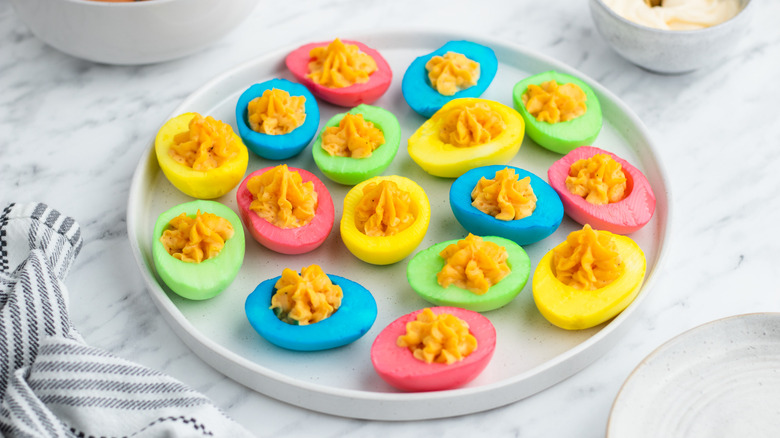 Catherine Brookes/Mashed
When you think of an "Easter Egg," what's the first thing that comes to mind? An actual egg? Or a foil-wrapped chocolate confection? As much as we love ourselves a Cadbury Creme Egg, the fact is that the OG Easter Egg has always been an actual egg. As recipe developer and photographer, Catherine Brookes of Blue Sky Eating tells Mashed, eggs are "traditionally a symbol of life and rebirth that comes with spring time," and they've always been associated with Easter. And, what better way to utilize eggs around Easter than through the classic appetizer of deviled eggs?
Brookes' recipe for deviled Easter eggs takes the savory taste of deviled eggs and pairs it with Easter's pastel yellows, blues, pinks, and greens. Or, really, any colors you choose, although Brookes does advise picking a good quality water soluble food coloring for best results here. Basically, this fun and colorful recipe is a "a simple and classic crowd pleaser with the addition of fun colors that are sure to take them stand out on your Easter spread," as Brookes tells us. Of course, you're about to see for yourself.
Gather your ingredients for Easter deviled eggs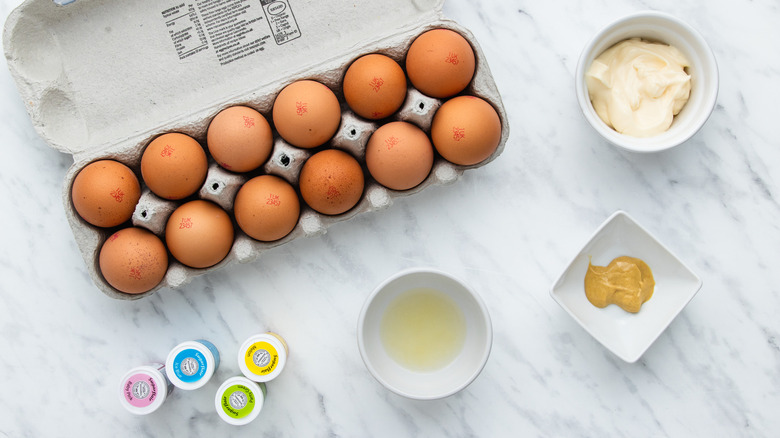 Catherine Brookes/Mashed
To make Brookes' recipe for Easter deviled eggs, you'll need one dozen large eggs for 24 half-egg servings. You'll also need some mayonnaise, Dijon mustard, lemon juice, salt, and pepper to bedevil your egg yolks, once your eggs are cooked. And you'll need four food colorings of your choice to give the egg whites their distinctive Easter flair. Here are some natural substitutes for commercially prepared food coloring, if you're partial to that idea, or if, perhaps, you have children in the house who might appreciate a good excuse to play with their food!
Start by preparing your hard boiled eggs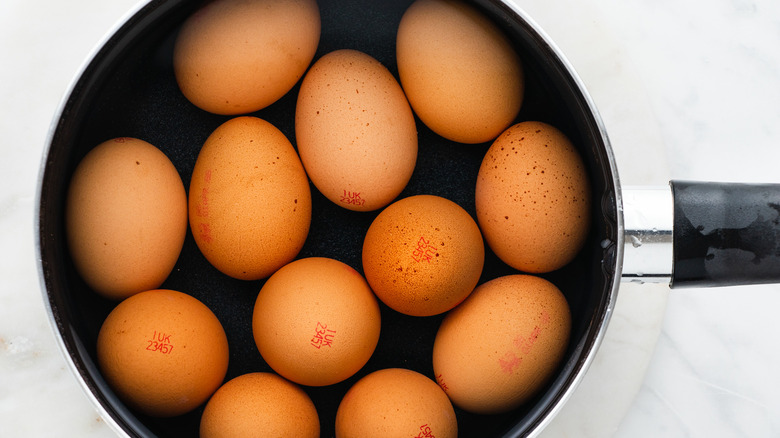 Catherine Brookes/Mashed
For this Easter deviled eggs recipe, Brookes goes with the boil-the-water-first method of hard-cooking eggs, which you can read about in more detail here, along with some other useful tips for cooking eggs in this manner. Add the eggs to a large pan of boiling water and cook for 10 minutes. Carefully pour away the hot water and fill the pan with cold water, then leave the tap running over the pan for about one minute. Turn off the tap and leave the eggs to cool in the pan of cold water for 10 minutes. Peel the eggs and discard the shells. If any small pieces of shell remain on the eggs, you can carefully rinse them.
In this step, your eggs will acquire their Easter colors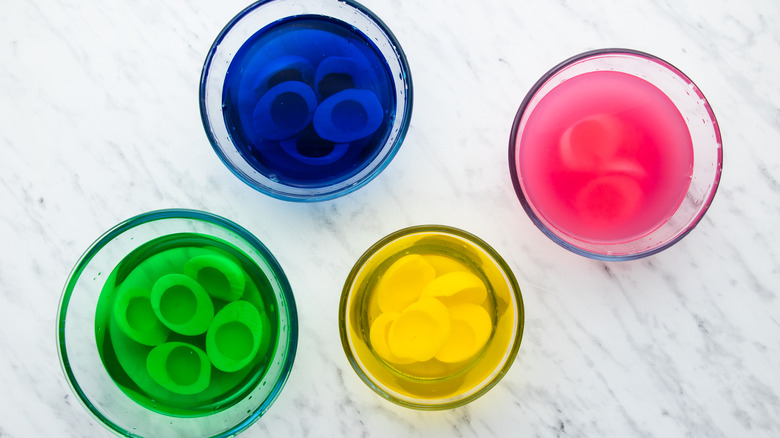 Catherine Brookes/Mashed
Slice each egg in half and scoop out the firm yolks. Set the yolks aside for the remainder of this step.  
Fill four bowls with approximately 2 cups of water each, and add a few drops of food coloring to each until the water is brightly colored. Place the egg white halves into the colored water bowls and let them soak for about five minutes. While the eggs are soaking in their Easter color, you can turn to stirring together the deviled egg yolk filling. 
Season your egg yolks, and assemble your masterpiece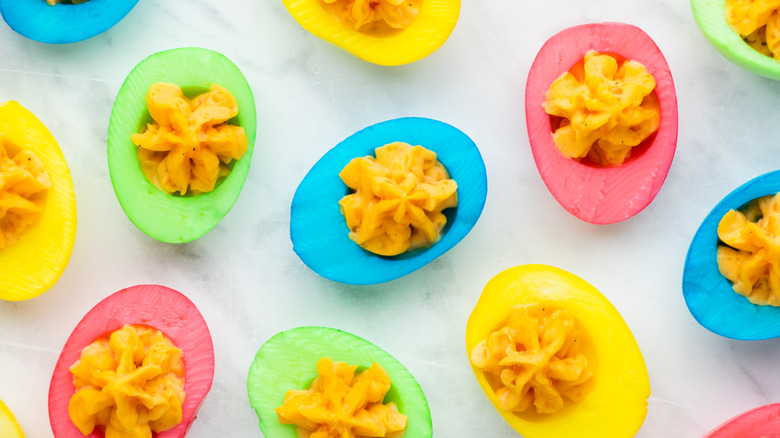 Catherine Brookes/Mashed
For this step, we're going to focus once again on the egg yolks. Add the mayonnaise, mustard, lemon juice, and salt and pepper (to taste) to the egg yolks. Mash everything together with a fork until the mixture is nice and smooth. 
When it's time to remove the egg whites from the dyed water (after five minutes of soaking time, as noted above), use a colander or strainer to drain the water. Then dab the egg whites completely dry before placing on a serving platter. Spoon or pipe the yolk mixture into each egg half. Brookes uses a "Wilton 1M" piping nozzle to get the effect you see in the photos, but yes "you can totally just spoon it in if easier," Brookes assures us. Happy Easter!
link