Make rice balls for Lunar New Year to bring happiness and sweetness in the year ahead
Over a billion people around the world will usher in the Year of the Rabbit on Sunday and one chef is sharing some Lunar New Year traditions to get the celebrations started.
Chef Kathy Fang, co-owner of Fang restaurant in San Francisco, joined "Good Morning America" on Friday to share her tips, decor ideas and recipes.
The star of Food Network's "Chef Dynasty: House of Fang" suggested simple symbolic decorations to help make the home feel festive with a beautiful Asian flair.
Use bowls of fresh tangerines or mandarin oranges with the stems still intact, which she said symbolizes wealth and good luck.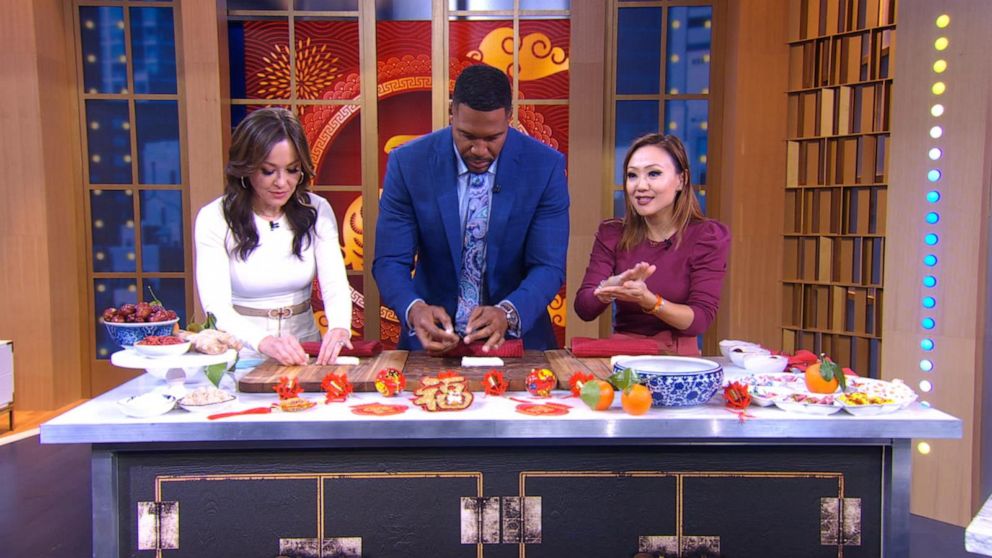 You can also create floral arrangements with orchids, which symbolize fertility and abundance.
As for food, Fang made traditional rice balls that are "round and smooth, thus the rest of your year will run smoothly like a ball," she explained.
"It's also believed to bring happiness and sweetness to your life," she added.
Check out her recipe for rice balls in ginger goji berry date soup, that take just five minutes to make, below.
Rice Balls (Tong Yuen) in Ginger Goji Berry Date Soup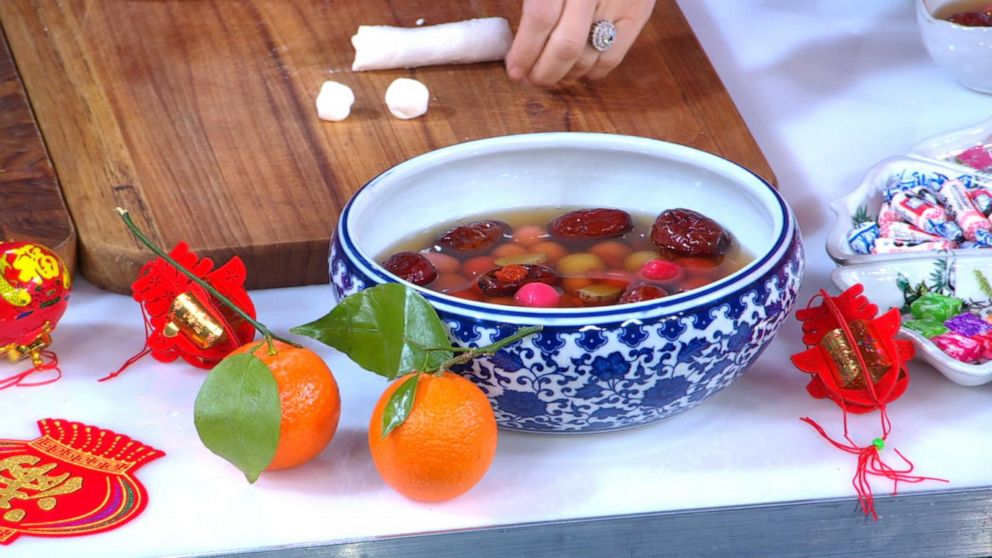 Serves: 2-4 (makes 25-30 balls)
Prep time: 15 minutes
Cook time: 5 minutes
Ingredients
For dough
1 cup glutinous rice flour
3 tablespoons of boiling water
4 tablespoons of warm temperature water
Red food coloring (for pops of color)
For soup
1 small knob of ginger
2 tablespoons dried goji berries
8 jujubes (Chinese dried dates)
3 tablespoons brown sugar or 3 tablespoons date syrup (adjust sweetness to your liking)
Instructions
Making the rice balls:
In a mixing bowl, add boiling water slowly into to glutinous rice flour while stirring with a rubber spatula to full incorporate.
Add warm temperature water slowly and continue to mix until dough starts come together and can be kneaded into a ball without being too dry.
The dough should feel a little sticky but can be kneaded and rolled into a smooth ball.
Split the dough into 3 equal parts.
Add a small drop of red food coloring to one of the dough and begin kneading it to spread the color evenly into a light pink.
Add two drops of red food coloring to the second piece of dough and being kneading it to spread the color evenly into a deep red color.
The last piece of dough remains white.
Cover the dough with a wet towel to be sure it doesn't dry out.
Begin rolling into bite sized balls (marble size) by taking a small lump of dough and forming them in your hand. Repeat until you finish all three of the doughs. Set aside in a tray and cover with a wet towel.
Making the soup:
Bring water to a boil and add all your ingredients.
Boil for 5 minutes to release the flavors.
Add the rice balls into the boiling soup and cook for 5 minutes or until they all float.
Taste and adjust sweetness accordingly.
Serve in bowls!
link