The 8 Best ShopKeep Competitors to Consider in 2022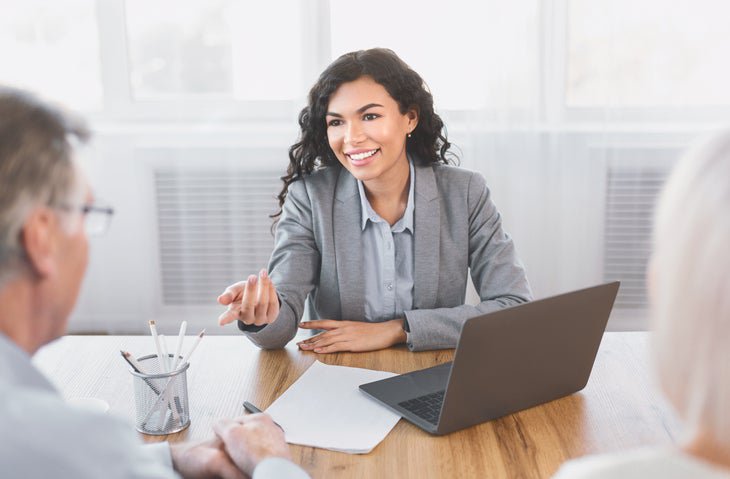 ShopKeep is a great choice for a POS solution, but it's not the only tool that can help support your retail or food-based business. The Ascent highlights the best ShopKeep alternatives.
ShopKeep is a great choice for a POS system for merchants looking for a solution with inventory management features that cater to a number of niche retail types.
The software offers small to medium-sized businesses in the retail and food-based world a number of POS features, such as a back office, customer marketing, employee management, and an offline payments mode.
However, if ShopKeep's POS doesn't check everything on your list, there are several POS alternatives that might match your criteria. In this guide, we go through eight ShopKeep competitors to help you make an informed software choice.
The top alternatives to ShopKeep as a POS software:
Lightspeed POS
PayPal Here
Toast POS
Revel POS
Epos Now
Clover POS
What to look for in a great ShopKeep alternative
ShopKeep is packed with great POS features, but there are many alternatives to the ShopKeep app. Here's what to look for in any ShopKeep alternative.
1. Value for money
ShopKeep offers several pricing bands that range from $49/month to $179/month when billed annually. While these are affordable prices, they're far from the cheapest on offer. Look for a tool that provides you with strong POS features and a pricing plan that matches your budget.
2. Range of integrations
ShopKeep offers very few integration options with other apps. Aside from QuickBooks, Mailchimp, and BigCommerce, the app doesn't appear to integrate with any other third-party systems.
It's important that the POS software you choose can play nice with the other systems you use, so select a tool that provides a decent list of product integrations.
3. Support for e-commerce
In terms of ShopKeep's e-commerce offering, the basic pricing package includes connection to your e-commerce store but only until the end of 2020. If you're looking for a tool that can support omnichannel selling without needing to upgrade your pricing plan, keep your eye on the alternatives below.
Our top 8 picks for ShopKeep alternatives
Here are our top ShopKeep alternatives, along with their feature sets and pricing information, to help you narrow down the options for the best POS solution for your business.
1. Lightspeed POS
Lightspeed offers two solutions, Lightspeed Retail and Lightspeed Restaurant, which offer industry-specific POS features for retailers and restaurateurs.
Lightspeed Retail is suited to mid-sized and larger businesses due to its higher pricing tiers and fuller feature set, which includes:
Inventory management: Aside from the typical inventory features, Lightspeed also gives users the ability to upload vendor catalogs and order stock directly from the POS.
Purchase order management: Users can add multiple items from different vendors into one purchase order and set reorder points to regulate stock levels.

Lightspeed Restaurant is geared more toward small and mid-sized businesses and is suitable for full-service restaurants, cafes, bars, and more. Its features include:
Menu management: Users can customize product sections and assign unique names and pictures to each dish.
Raw ingredient tracking: When you compare Lightspeed's and ShopKeep's inventory features, you'll see that Lightspeed offers more advanced ones. For example, restaurateurs can track all raw ingredients down to their unit measurements, and the system alters inventory levels automatically as products are sold.
Floor plan management: Floor plans give an accurate visual representation of their restaurant's floor plan within the POS and color-codes tables based on their status.
Both Lightspeed offerings are more expensive than most competitors, although the vendor does offer a 14-day free trial without asking for your credit card information.
Lightspeed Retail's most basic plan costs $69/month, while the most expensive one costs $229/month. Lightspeed Restaurant's cheapest plan also comes in at $69/month for one POS register, and add-ons, such as customer-facing display and advanced reporting, will cost $12/month. Premium add-ons, such as accounting and self-order kiosks, cost $39/month.
Read The Ascent's full Lightspeed POS review
2. Shopify POS
Shopify, a leader in the e-commerce space, added POS capabilities in 2013. It's a great option for those wanting to sync their in-store operations with their e-commerce, but the platform can also be used as a standalone tool.
Shopify POS is suitable for both retail and restaurant merchants, and its scalable pricing options make it an accessible solution for businesses of all sizes. Features include:
Inventory management: Users can set up automatic reminders or even purchase orders when stock is running low.
Sales analytics: Available with the Shopify and Advanced Shopify plans, users can access granular data by day, month, quarter, and year.
Customer management: Create customer profiles by accessing order histories, and offer customers unique sales and discounts.
Employee management: Available with Shopify and Advanced Shopify, users can create a personal identification number (PIN) for each employee to closely track sales and register activities.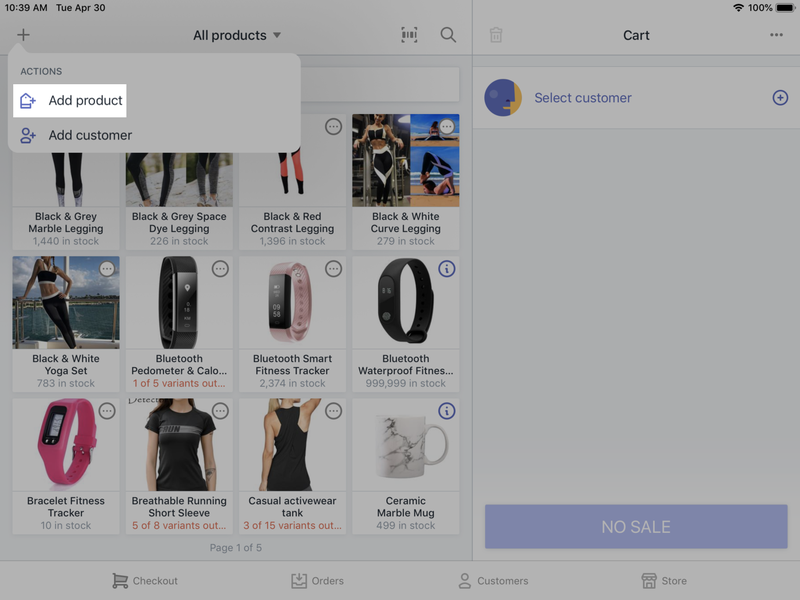 Shopify offers five different pricing bands, and its most basic, Shopify Lite, costs just $9/month, but this only supports online sellers. The Basic Shopify package supports both online and offline selling and costs $29/month.
With its Shopify Lite and Basic Shopify plans, each card transaction costs 2.7%, and online transactions are 2.9% + $0.30 of online transactions. Basically, the more expensive the plan, the lower each transaction will cost. However, the more expensive plans also coincide with multi-location management, shipping support, and more individual accounts.
Read The Ascent's full Shopify POS review
3. Square
Square is a free mobile POS app that processes payments and offers merchants a great range of useful POS features. It's suitable for small and mid-sized retail businesses, as well as food trucks, cafes, boutiques, and farmers' markets. Square also offers industry-specific features with its Square for Retail and Square for Restaurants platforms.
Square POS offers the following features:
Inventory management: Users can import existing stock using a CSV spreadsheet, adjust stock levels, and sync their online and in-store inventory.
Sales analytics: Granular reporting helps users gain real-time insight into buying trends.
Offline mode: Transactions can be processed automatically once you're reconnected, and there's no extra charge for this feature.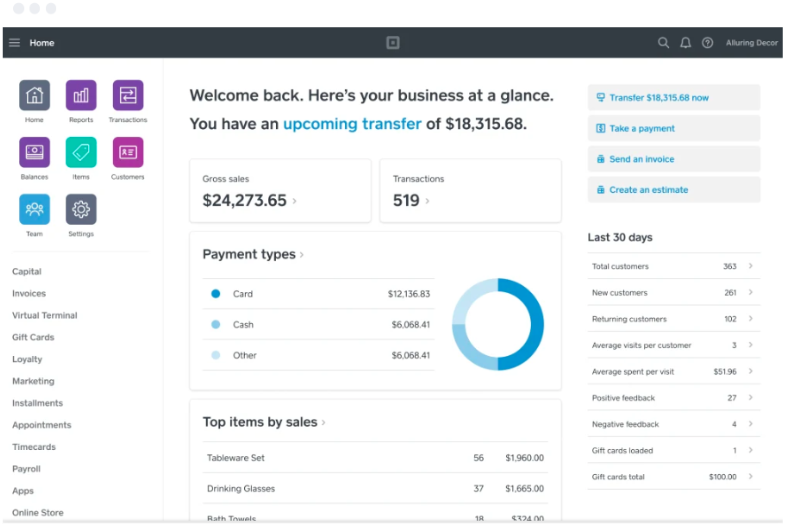 Square POS offers a free app with no monthly charges. Users are only charged transaction fees, which are broken down as follows:
Normal card transactions are a flat rate of 2.6% + $0.10
Keyed transactions are charged at 3.5% + $0.15
Online transactions cost 2.9% + $0.30
Read The Ascent's full Square POS review
4. PayPal Here
PayPal Here offers basic POS capabilities along with payment processing features. It is a good choice for any small business that needs an out-of-the-box solution at a low cost. It's a suitable choice for both retailers and restaurateurs.
PayPal Here's features include:
Invoicing: Automated invoicing immediately upon completing sales or services rendered.
Inventory management: Email notifications automatically alert merchants when inventory counts are low.
Customer management: Users can review transaction histories, import and edit contact information, and reach out to customers directly from the app.
Reporting: Quick sales summaries and detailed, time-specified sales reports can be accessed.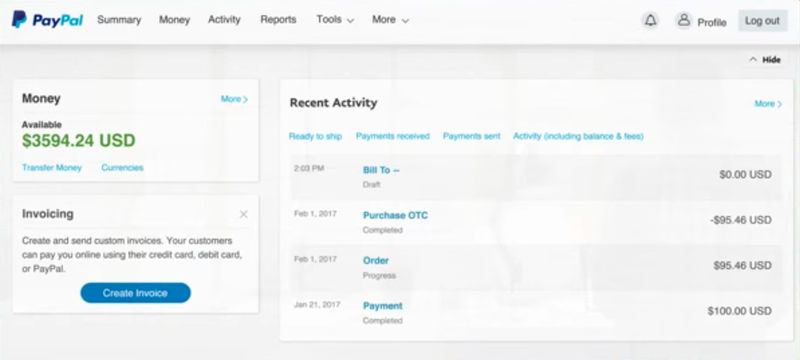 PayPal Here users are charged transaction fees:
Card swipes, dips, and taps cost 2.7%
Keyed-in transactions are 3.5% + $0.15
Online payments and invoices cost 2.9% + $0.30
International payments are subject to an additional 1.5% fee
Read The Ascent's full PayPal Here review
5. Toast POS
Toast POS is a solution designed specifically for the restaurant industry, from small cafes to full restaurants, as well as bars. It's an Android POS system, and due to its higher price point and more robust features, mid- to large-sized businesses can benefit from using it.
Toast POS's features include:
Pre-authorized payments
Menu management
Advanced POS reports
Split bill functionality
Employee management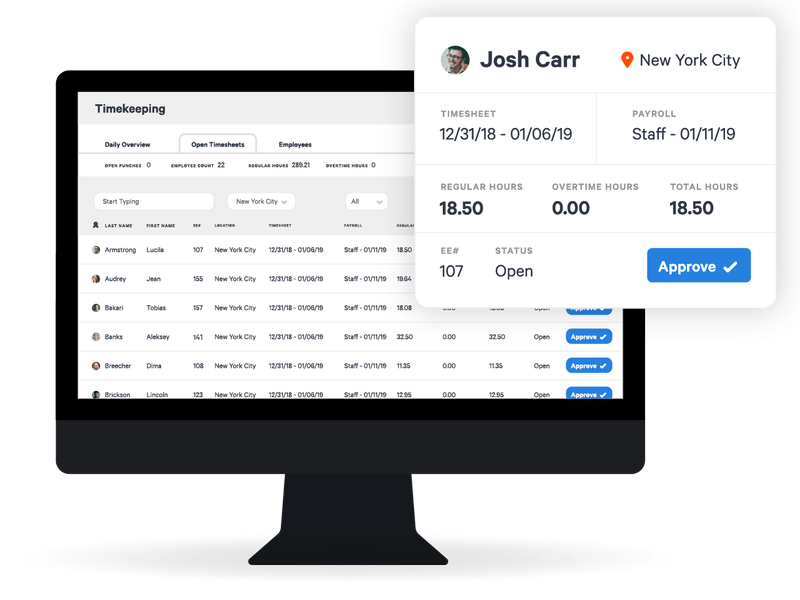 Toast POS requires you to use its proprietary in-house payment processing. Toast POS pricing can be broken down into four categories:
Monthly software subscription
Transaction fees
POS hardware purchase and installation
Add-on features and integrations
However, users can expect to pay $79/month for one POS terminal and $50 for any additional terminals. If you choose to use Toast POS hardware, there's also a hardware installation fee that starts at $499.
Read The Ascent's full Toast POS review
6. Revel POS
Revel POS is designed for larger businesses, such as independent restaurants and small to large restaurant chains. Its pricing options also indicate that it's a solution aimed at larger establishments willing to pay more for a more powerful system.
Revel POS offers the following features:
Pre-authorized payments
Digital menu boards
Table management
Inventory management
Employee management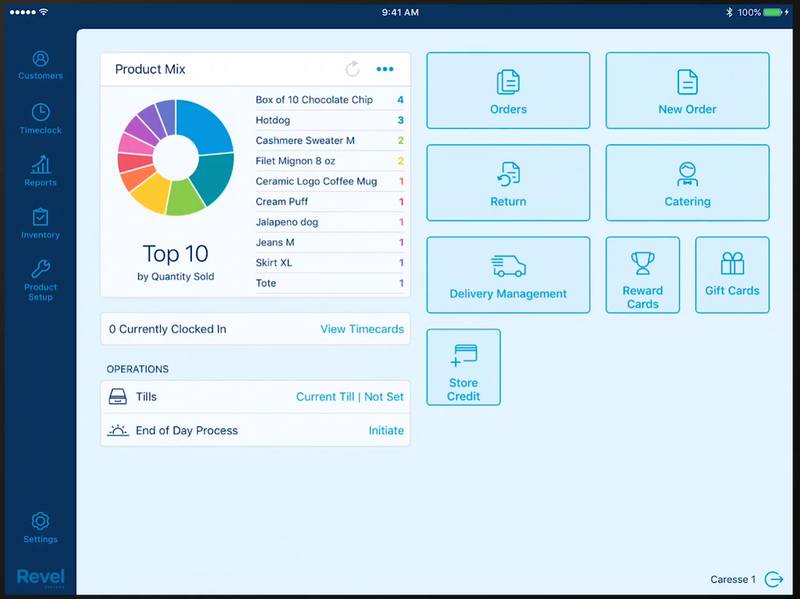 To use Revel POS, you have to sign a three-year contract. Pricing begins at $99/month per POS terminal, with annual upfront billing.
Read The Ascent's full Revel POS review
7. Epos Now
Epos Now has offerings for both retail and hospitality businesses, such as bars, restaurants, cafes, hotels, gyms, and spas.
In terms of retail features, Epos Now offers the following functionality:
E-commerce integration
Promotions
Inventory management
Reporting
Booking system
Invoicing
Stock management
For those looking for restaurant-specific features, Epos Now offers:
Table layouts
Quick login
Split bills
Online booking
Loyalty system
You can access a 30-day free trial of Epos Now before you commit to an investment. There are two pricing tiers: Standard, which costs $39/month, and Premium, which costs $69/month. Both pricing bands offer the same features, but the Premium tier offers a higher level of ongoing customer support and how much users are charged per register.
Read The Ascent's full Epos Now review
8. Clover POS
The Clover POS platform is technically suitable for both retail and service-based businesses, yet most of its customer base is in the food service industry — namely, table service and counter service operations. Because of its higher entry costs, it's more suitable for mid-sized and larger businesses.
Clover POS is an Android-based system, and it offers the following features:
Order management
Customer management
Sales reporting
To use Clover POS, you'll be required to purchase one of its hardware packages, which range from $69 for a card reader to $1,649 for just one POS terminal. There are also software subscription tiers that range from $14/month to $70/month, plus standard per-transaction fees.
Read The Ascent's full Clover POS review
Find the right ShopKeep alternative for your business
ShopKeep has a lot of extras to offer users on top of the common POS features, such as ShopKeep gift cards. It also has great hardware options, such as its proprietary ShopKeep barcode scanners.
However, it's not the only robust and affordable POS solution on the market. We recommend you try out as many demos and free trials as possible before committing to a software package, and if you can't demo a platform, use our POS resources to help you make an informed decision.
Remember, the POS software you use should improve your business processes, be easy to use, and not put a strain on your budget.
link