The ice cream of cookies will make everyone feel lucky this St. Patrick's Day – InForum
FARGO — "This tastes like I'm eating ice cream, but it's a cookie," my son, Giovanni, declared upon tasting these charming Mint Chocolate Chip Shamrock Cookies — and it was exactly the response I had hoped to achieve.
When I found this recipe in Emily Hutchinson's newest cookbook, "Creative Cookie Decorating for Everyone," I knew I had to give it a try. Mint chocolate chip is my favorite ice cream flavor, and not only did the appearance of this cookie charm me, but I was delighted to discover that it tastes even better than it looks.
Emily's recipe is straightforward and consists of the usual baking staples: flour, butter, sugar, salt, baking powder, eggs and vanilla. In addition, there are three important ingredients that take these cut-out cookies to the next level: powdered sugar, peppermint extract and mini chocolate chips.
In addition to granulated white sugar, Emily's recipe also calls for powdered sugar, which helps to ensure that the cookies are tender and chewy to create the perfect texture for folks who love a soft sugar cookie.
To give these cookies their minty flavor, Emily recommends using half to a whole teaspoon of peppermint extract. Less is more when it comes to peppermint extract, and after testing three different batches with varying amounts of peppermint, my family all agreed that the half-teaspoon was just the right amount. More than that and the mint began to overpower the cookie.
Semisweet chocolate chips are the final key ingredient, and size really does matter when it comes to this cookie. In my test batches, I used mini chips, as per Emily's recommendation, and I also tried regular chocolate chips as well as finely chopped good chocolate.
Hands down, the mini chocolate chips gave the best result as they were the most similar in size and texture to mint chocolate chip ice cream.
I colored the dough with a couple drops of green gel food coloring, which I added just after the flour. The flour takes quite a bit of time to mix into the wet ingredients, but after about two minutes of mixing on low speed, a lovely green and pliable dough began to form.
The dough is rolled out to a thickness of a quarter-inch, and then refrigerated for at least 30 minutes before cutting it into shapes. The refrigeration time helps prevent the cookies from spreading as they bake.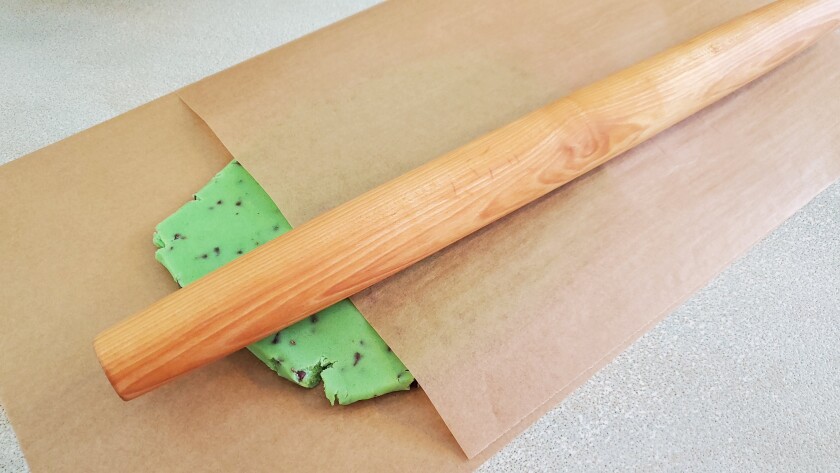 Emily recommends a baking time of six to seven minutes at 375 degrees, but I found that was just not enough time in my oven as the cookies were simply too soft in the center and slightly underbaked. After baking several sheets of cookies, the sweet spot in my oven was between eight to nine minutes.
At this stage the cookies will puff up slightly before flattening out again, and the centers will turn from glossy to matte, but there should be no browning along their edges or bottom.
The cookies are delicious just as they are, but for this occasion, I cut them into shamrocks and then dipped them in good dark chocolate and sprinkles. Festive and easy to make, these Mint Chocolate Chip Shamrock Cookies are a wonderful spin on a classic flavor combination, and the perfect way to say Happy St. Patrick's Day!
Mint Chocolate Chip (Shamrock) Cookies
Makes: about 30 3-inch cookies
PRINT: Click here for a printer-friendly version of this recipe
Ingredients:
3 cups all-purpose flour
½ teaspoon baking powder
½ teaspoon kosher salt (omit if using salted butter)
1 cup (2 sticks) unsalted butter, room temperature
¾ cup powdered sugar
½ cup granulated white sugar
1 large or extra-large egg, room temperature
2 teaspoons pure vanilla extract
½ teaspoon pure peppermint extract
Green gel food coloring
½ cup mini semisweet chocolate chips
Directions:
In a medium bowl, whisk together flour, baking powder and salt; set aside.
In the bowl of a stand mixer fitted with the paddle attachment, cream the butter on medium-high speed for 1 minute until soft and smooth. Add the 2 sugars and cream together on medium speed for 3 minutes. Add the egg and beat on medium until fully incorporated, about 1 minute. Add the vanilla and peppermint and beat on medium for 30 seconds.
Add the flour mixture to the bowl and beat on low speed until it starts to come together, about 30 seconds. Add the food coloring and continue to mix on low speed until fully combined and a dough is formed — this will take about 2 minutes. Add the mini chocolate chips and stir on lowest speed until incorporated.
Turn the dough out onto a piece of parchment paper and divide into 2 halves. Press each into a disk about 1-inch thick. Place 1 half between 2 pieces of parchment paper (or plastic wrap) and use a rolling pin to roll the dough out to ¼-inch thickness, then repeat with the other half. Run your hand across the top of the parchment to check that the surface is evenly smooth and consistent in thickness. Refrigerate the dough for at least 30 minutes.
Meanwhile, preheat oven to 375 degrees and line 2 baking sheets with parchment paper. When the dough is chilled, use a cookie cutter to cut the dough into shapes, as desired. Place the cookies on the prepared baking sheets, spaced 2 inches apart.
Bake in the center of the oven for 8 to 9 minutes, until the cookies appear matte in the center and firm around the edges. Remove from oven and let the cookies cool on the baking sheet for 3 minutes, then transfer to a wire rack to cool completely.
Serve plain, dipped in chocolate and sprinkles, or decorate with royal icing or buttercream frosting.
Store the cookies in an airtight container for up to 1 week, or in the freezer for 2 to 3 months.
— Adapted from Emily Hutchinson's recipe in the "Creative Cookie Decorating for Everyone" cookbook.
This week in…
Recipes can be found with the article at InForum.com.
"Home with the Lost Italian" is a weekly column written by Sarah Nasello featuring recipes by her husband, Tony Nasello. The couple owned Sarello's in Moorhead and lives in Fargo with their son, Giovanni. Readers can reach them at [email protected].

link