Whip up some love this Valentine's Day | Food Drink
If the way to a loved one's heart is through their stomach, there's no better approach to celebrating Valentine's Day than with a trio of homemade treats!
Find more recipes you'll love to share with your nearest and dearest this Valentine's Day at Culinary.net.
COCOA-KISSED RED VELVET PANCAKES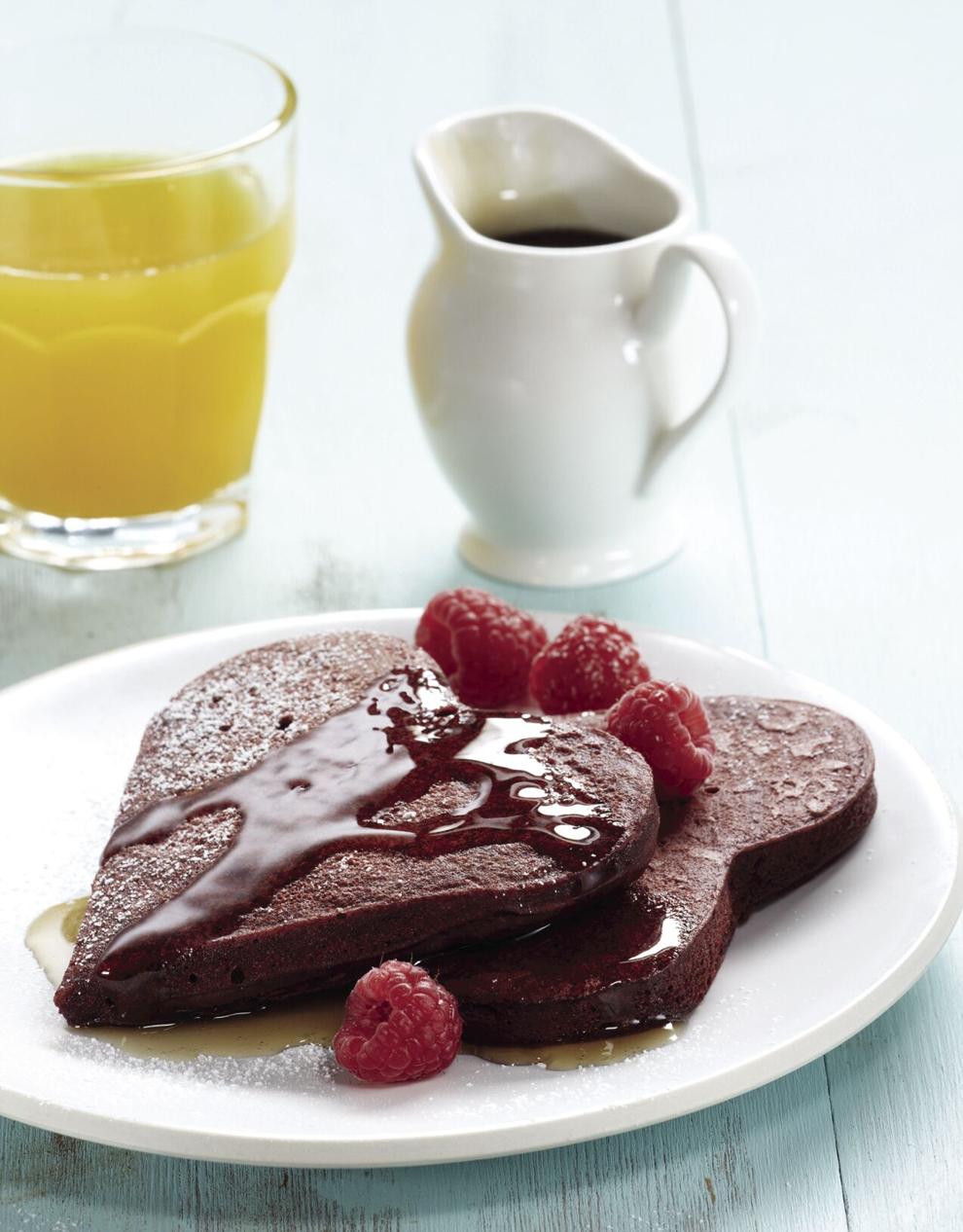 Recipe courtesy of Nestlé
Yield: 10 pancakes
INGREDIENTS
1 cup all-purpose flour
1/4 cup granulated sugar
3 tablespoons Nestlé Toll House Baking Cocoa
1 teaspoon baking powder
1/2 teaspoon baking soda
1/2 teaspoon salt
1 large egg
1 cup reduced-fat buttermilk or lowfat milk
2 tablespoons unsalted butter, melted
1 1/2 teaspoons vanilla extract
1 teaspoon red food coloring
Heart-shaped pancake cutters or cookie cutters, optional
Butter for garnish, optional
Powdered sugar for garnish, optional
Fresh berries for garnish, optional
Maple syrup
PREPARATION
In large bowl combine flour, sugar, baking cocoa, baking powder, baking soda and salt; stir well.
In separate large bowl, whisk together egg, buttermilk, unsalted butter, vanilla extract and food coloring; add to flour mixture and stir to combine. Allow mixture to sit 5 minutes.
Heat nonstick skillet or griddle over medium heat; brush with oil or butter.
When skillet is hot, add about 1/4 cup batter and cook until bubbles start to form on top, about 2 minutes; flip and cook 1-2 minutes, or until bottom is lightly browned.
Serve immediately with syrup, and butter, powdered sugar and berries, if desired.
Tip: If using pancake or cookie cutters, be sure to coat with oil or nonstick spray so batter doesn't stick.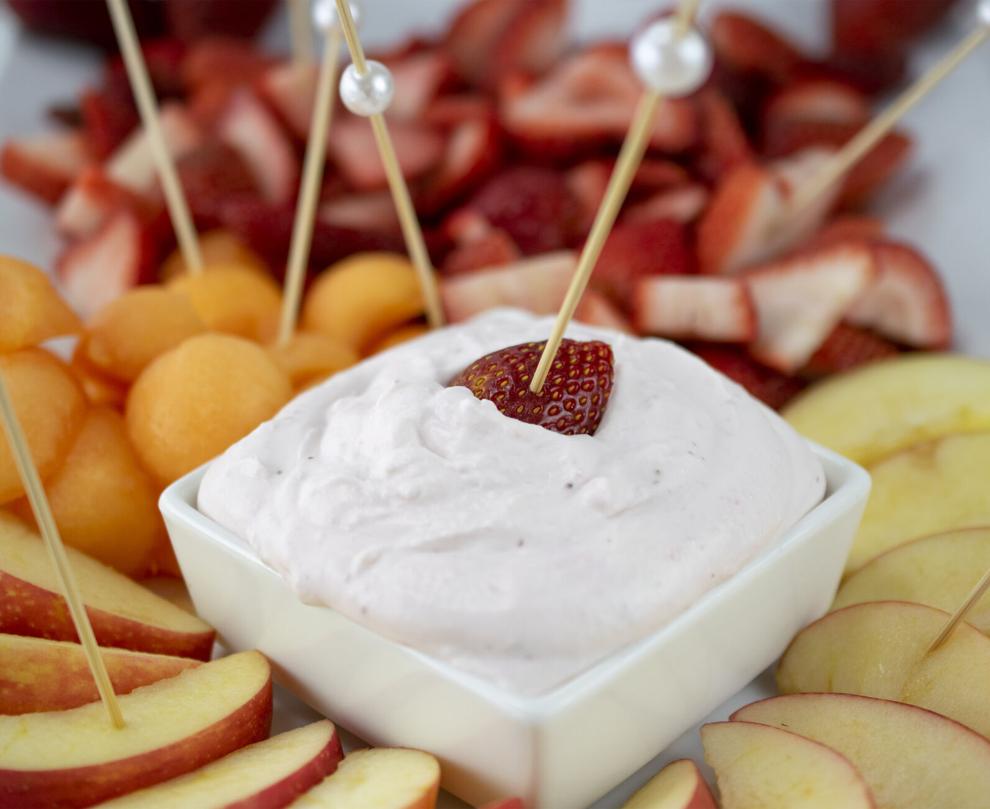 STRAWBERRY MOUSSE
Servings: 6-8
INGREDIENTS
1 cup strawberries, halved
2 cups heavy cream
1 cup powdered sugar
1 8-ounce package cream cheese, softened
Assorted cubed fruit for serving
PREAPARATION
In blender, purée strawberries until smooth; set aside.
In mixing bowl, whip heavy cream and powdered sugar until fluffy.
In separate mixing bowl, beat cream cheese until smooth, add strawberry purée and mix until combined, then add whipped cream and stir until combined.
Serve in bowl with fruit.
CRANBERRY RASPBERRY VANILLA PUNCH
Servings: 6-12
INGREDIENTS
8 cups cranberry-raspberry juice
8 1/2 cups cranberry ginger ale
1 tablespoon vanilla extract
1pint raspberry sorbet
Frozen cranberries for garnish
PREPARATION
In large punch bowl, blend juice, ginger ale and vanilla extract.
Add frozen cranberries and scoops of frozen sorbet; stir slightly and serve immediately.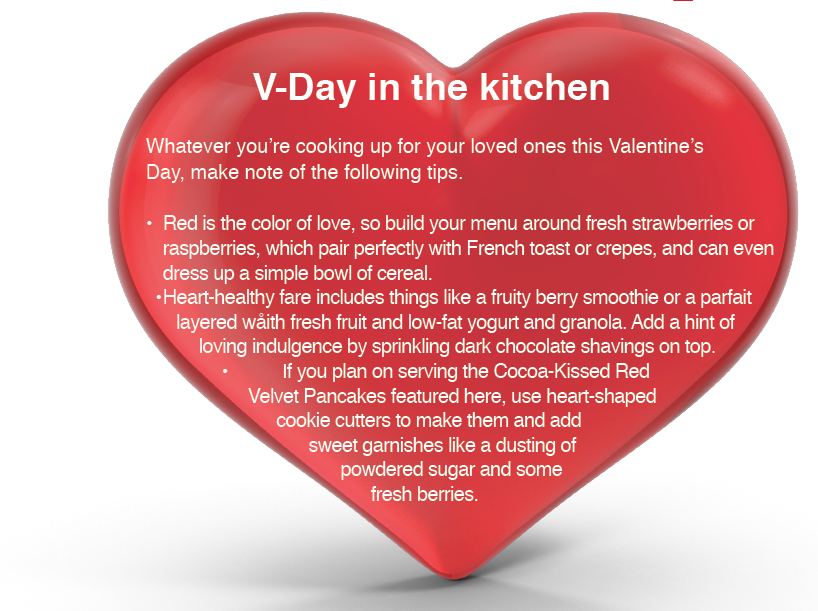 V-Day in the kitchen
Whatever you're cooking up for your loved ones this Valentine's Day, make note of the following tips.
Red is the color of love, so build your menu around fresh strawberries or raspberries, which pair perfectly with French toast or crepes, and can even dress up a simple bowl of cereal.
Heart-healthy fare includes things like a fruity berry smoothie or a parfait layered with fresh fruit and low-fat yogurt and granola. Add a hint of loving indulgence by sprinkling dark chocolate shavings on top.
If you plan on serving the Cocoa-Kissed Red Velvet Pancakes featured here, use heart-shaped cookie cutters to make them and add sweet garnishes like a dusting of powdered sugar and some fresh berries.

link